Will Libya aid ship force more changes to Israel's Gaza blockade?
The Libya-sponsored Almathea is the latest of several attempts to break Israel's Gaza blockade since a fatal raid killed nine pro-Palestinian activists on May 31.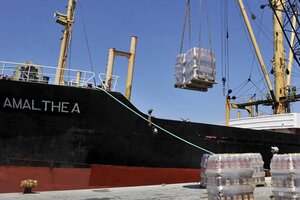 Louisa Goulimaki/AFP Photo/Newscom
As a potential confrontation looms between Israel and the Libyan sponsors of a Gaza-bound aid ship, Israel's naval blockade of the impoverished coastal strip faces a new test.
A charity headed by Saif Qaddafi, the son of Libyan ruler Muammar Qaddafi, has organized a ship with a cargo of 2,000 tons food stuffs. Saif Qaddafi joins groups in Iran and Lebanon – all countries which Israel views as hostile – in declaring a desire to reach Gaza.
The international furor over Israel's killing of nine pro-Palestinian activists in late May weakened the Israeli siege on Gaza, but follow-up efforts have fizzled.
"It's not an easy thing to organize such ships…. There is much talk but little action. That doesn't mean in another couple of months there won't be another action," says Shlomo Brom, a fellow at Tel Aviv University's Institute for National Security Studies.
"What we can learn from the previous attempts is that when the ship is manned by a few activists, it is not a problem," adds Mr. Brom, a former head of strategic planning in the Israeli army. "It becomes a problem when there are many people on board."
---