Odierno: Militants trained in Iran prepare to attack US bases in Iraq
Gen. Ray Odierno, the top US commander in Iraq, said today that Al Qaeda is a diminished threat and that Iran has moved away from instigating violence. But he also said that Iraqi Shiite militants who trained in Iran are planning a major attack.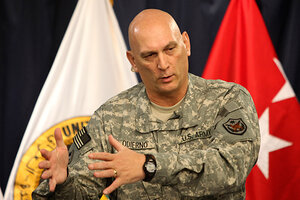 Karim Kadim/AP
Shiite Iraqi militants have trained in Iran in preparation for attacks against US military bases as American combat forces prepare to withdraw by September, the top US commander in Iraq said on Tuesday.
In an unusually candid assessment, Gen. Ray Odierno said that Kataib Hezbollah – an Iraqi Shiite militant group backed by Iran – may be seeking to take some credit for the long-planned departure of US troops.
"For years these groups have been [saying] that they are forcing the US to leave," Odierno told reporters in Baghdad. A significant strike "could be a huge propaganda tool for them in the future."
So far, he said the US had seen only seen "fairly low level" attacks on military convoys, and that Al Qaeda in Iraq had also been "significantly degraded" in the past year and lost contact with leadership in Afghanistan and Pakistan. Overall violence in Iraq has dropped considerably in the past two years.
---