The other, powerful Karzai boss in Afghanistan
To many Ahmed Wali Karzai, the half brother of Afghan president, is the key to taming the Taliban in the critical city of Kandahar. But to others he's a highly controversial figure.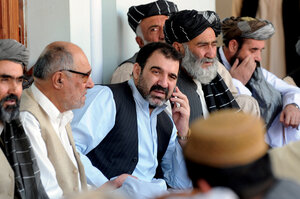 Banaras Khan/AFP/Getty Images/File
Ahmed Wali Karzai, leader of the Popalzai tribe and the most powerful man in Kandahar, settles down in his chambers for another round of grievance hearing, dispute settling, and political strategizing.
Gazed down upon by a photo of his assassinated father and bathed in the aura of his half brother, Afghan President Hamid Karzai, Wali Karzai's avid eyes flit over the tribal chieftains and petitioners around him as he dispenses the business of the day.
Increasingly, the business of the day in Kandahar and the business of Ahmed Wali Karzai are indistinguishable. To his supporters, that's all to the good – a supporter of the United States effort with his hand on the tribal political levers in a province and city that's the key to defeating the Taliban.
Encouraging corruption?
But to others, Mr. Karzai is building a traditional patronage network – with his family at the top of the heap – that is encouraging corruption, creating tribal divisions, and shifting support to the Taliban from the NATO-backed government of his brother.
Kandahar, awash in drug money and contractor profits, where Taliban assassinations occur almost daily, is currently the focus of a US military buildup. Karzai – or AWK in the language of the blossoming diplomatic cables and military intelligence dossiers on his activities – is the man in the middle.
---