In diverting Libya aid ship, Israel implements lessons from Gaza flotilla raid
Israel worked with Egyptian officials to divert the Libya aid ship bound for Gaza, using not only military deterrence but also intensive diplomacy.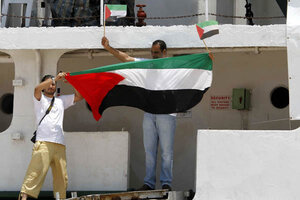 Nasser Nouri/Newscom
Israel ducked a sea clash with a Libyan-backed aid ship bound for Gaza with a combination of diplomacy and deterrence, applying some lessons from the fatal intercept of a Turkish ship that left nine pro-Palestinian activists dead and increased Israel's international isolation.
The Libyan sponsors of the Amalthea ship, after meeting Israeli navy ships and establishing radio contact with Israeli officers on Tuesday, decided to sail to the port of Al Arish in Egypt rather than confronting the Israeli navy. Analysts said that Israel's stepped-up use of intermediaries helped convince Libya to change course of the aid ship, which was backed by a charity headed by the son of ruler Muammar Qaddafi.
"It wasn't the Israeli knee-jerk response of using force to solve every problem, says Gershon Baskin, codirector of the Israeli Palestinian Center for Research and Information. "They finally used their brains instead of muscles.''
Israeli naval escort, intensive diplomacy
---