Breakthrough for new Iraq government? Allawi meets Maliki, Sadr
A flurry of meetings could signal the formation of a new Iraq government by next week's deadline. Prime Minister Nouri al-Maliki's main challenger met with him tonight, after meeting kingmaker Muqtada al-Sadr yesterday.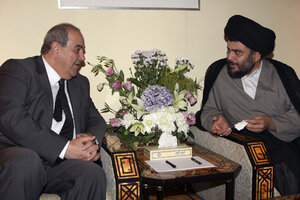 Bassem Tellawi/AP Photo
Top politicians are stepping up efforts to break a political deadlock and form a new Iraq government more than four months after national elections gave a narrow victory to Prime Minister Nouri al-Maliki's main challenger.
Mr. Maliki met late Tuesday night in Baghdad with former premier Ayad Allawi, who leads the Sunni-backed Iraqiya coalition that beat Maliki's Shiite bloc by two seats in Iraq's 325-seat parliament. Giving little away, delegate Mohammed Allawi said the talks were "positive" and aimed to form a government "in the next few days," though no top positions were discussed.
That came one day after an unusual meeting in Damascus, Syria, between Allawi and the anti-American cleric Muqtada al-Sadr, who rarely leaves Iran where he is undergoing religious training. His Shiite followers won 39 seats – making him kingmaker.
The reclusive junior cleric praised Allawi's party as "ready to compromise" to form a government. When asked about his readiness to work with Allawi, whom he had called a tool of the Americans when he was prime minister – Allawi had nearly had the cleric killed in 2004 – Sadr said he could "forget all previous differences for Iraq, so that the political process can move forward."
---