Veil ban: Why Syria joins Europe in barring the niqab
After issuing the veil ban on Sunday, which bars the full-face niqab veil from both public and private universities, Syria is now heading into waters that have proved difficult for Egypt. Courts there struck down similar bans.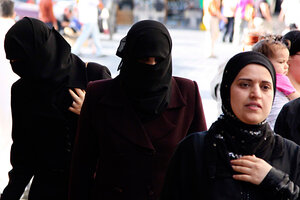 Bassem Tellawi/AP
Syria has banned students and teachers at universities from wearing the niqab, the full-face veil that has grown in popularity there in recent years.
The decree, which came Sunday on the heels of a move toward similar bans across Europe, is an attempt to preserve Syria's traditional role as the Middle East's bastion of secularism.
"Syria is adamant about its secularism," says Joshua Landis, director of the Center for Middle East Studies at the University of Oklahoma. "If the next generation is going to be raised to embrace the strict Islamic values for which the niqab is the expression, it will undermine the project Syria is trying to build, of secularism and coexistence of religions. "
Syria's Ministry of Higher Education issued the decree on Sunday, banning the facial veil from both public and private universities. A government official told Al Arabiya television that the niqab, which blocks all but the eyes from view, was "against academic principles." Last month, the Education Ministry removed hundreds of primary and secondary teachers who wore the niqab from their teaching positions.
---