Israel signals new cooperation with UN over Gaza flotilla
As a fresh round of activist ships prepares to set sail from Lebanon, Israel and the UN have made conciliatory statements on the Gaza flotilla issue that could help repair the fraught relationship – although not completely.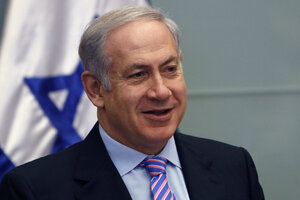 Ronen Zvulun/Reuters
Israel appears to have improved its cooperation with the United Nations over its controversial Gaza policy after coming under pressure from activists seeking to break Israel's sea blockade of the Hamas-controlled territory. The latest fleet of activist ships is preparing to set sail from Lebanon.
On Friday, UN Secretary General Ban Ki Moon's spokesman, Martin Nesirky, said that the aid to Gaza should be delivered by established land routes rather than the sea – a remark that irked Hamas, which blamed the UN for "collaboration" with the Israeli government.
"The UN call to international organizations to use the over-land road to Gaza instead of the sea is unacceptable and illegal," said Hamas spokesman Sami Abu Zahri on Saturday.
IN PICTURES: The Gaza flotilla and the aftermath of the Israeli naval raid
Yesterday, Israeli Prime Minister Benjamin Netanyahu told his cabinet that he is mulling with cooperating with Mr. Ban on the establishment of a commission of inquiry into the killing of nine activists during the May 31 intercept of an aid boat with hundreds of activists.
---