Q&A: Will new Iran sanctions dent Iran's oil industry?
The EU today implemented tough new Iran sanctions aimed at curbing Iran's nuclear ambitions. The sanctions specifically target Iran's oil industry, which accounts for roughly 80 percent of Iranian exports but faces numerous challenges.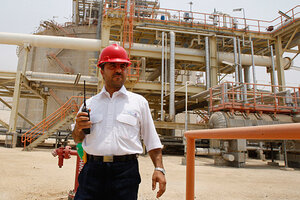 Vahid Salemi/AP
The European Union's tough new Iran sanctions, which go into effect today, aim to pinch Iran where it will hurt the most: Iran's oil industry. Oil accounts for roughly 80 percent of Iran's exports, and Tehran derives more than half of its revenue from its energy sector.
Long a major oil and gas supplier, Iran now faces a decline in production, an urgent need to expand its refining capabilities, and a predicted surge in Iraqi oil output – all of which could significantly affect a regime that has become one of the Middle East's most powerful nations.
As Iran begins to feel the squeeze from this third set of sanctions – United Nations' June 9 sanctions were followed by tougher US measures adopted July 1 before the EU weighed in this week – the Monitor examines the status of Iran's oil industry and the challenges facing it.
How robust is Iran's oil sector?
Iran's output is declining because many of its oil fields are aging. Last month, the Paris-based International Energy Agency (IEA) predicted that Iran's production would drop by 18 percent by 2015, to about 3.3 million barrels per day (b.p.d.).
Iran is developing new fields, most notably the South Pars natural-gas field. The South Pars is the Iranian portion of the world's largest gas reservoir, located in the Persian Gulf.
---