Breakthrough? Abbas gets Arab backing to enter Israeli-Palestinian peace talks.
Palestinian leader Mahmoud Abbas won Arab League backing today to enter direct Israeli-Palestinian peace talks – a step the US and Israel have been pushing for.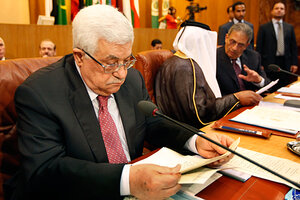 Nasser Nasser/AP
Setting the stage for the Palestinians to negotiate directly with Israel, the Arab League agreed in principle today to Palestinian leader Mahmoud Abbas holding face-to-face peace talks with the government of Prime Minister Benjamin Netanyahu.
The decision of the Arab League's forum on Israeli-Palestinian talks is significant because it provides political cover for Mr. Abbas, who has been locked in a battle for legitimacy with Islamists from Hamas who oppose negotiations with Israel.
Qatari Foreign Minister Sheikh Hamad bin Jassim al-Thani told Reuters "of course there is agreement'' in the Arab League for direct talks. The statement represents a victory for the Obama administration's effort to lobby the Palestinians for face-to-face negotiations, warning them that without such an agreement the US could not help Palestinians secure an eventual peace deal.
IN PICTURES: Israeli settlements
Arab governments "gave [Abbas] a mandate," says Munther Dajani, a political science professor at Al Quds University. "They gave the legitimacy he needs and the support by saying, 'Go ahead, you are not alone, we support you."
---