Why is Iran still holding US hikers?
One year after arresting them on the Iran-Iraq border, Tehran may seek an opportunistic swap.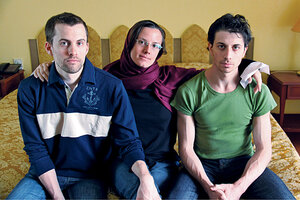 AP/File
A year ago, Iranian soldiers arrested three Americans along the border with Iraq.
Accused of espionage and of crossing illegally into Iran, which says it has "evidence" of contact with US intelligence agencies, they have been in prison ever since.
But the three friends say they were innocent hikers, inadvertently caught up in a regional tug of war between archenemies Iran and America.
The US news magazine The Nation in June cited Iraqi eyewitness accounts stating that Sarah Shourd, Shane Bauer, and Josh Fattal were arrested on the Iraqi side of the poorly marked border by Iranian guards who briefly crossed a few yards into Iraq to pick them up. It reported that the man likely responsible for their arrest – the head of the Revolutionary Guard intelligence for the region – has since been imprisoned for a string of kidnappings and murders.
Iran raised hopes of imminent release in May by allowing the prisoners' mothers to visit their children in Tehran, laying on good food, flowers, and a hotel reunion for the cameras. Iranian officials cited "humanitarian" reasons – a gesture not typically accorded spies.
---