Iraq car bomb, checkpoint attack leaves 25 dead
An Iraq car bomb in the city of Kut and a checkpoint attack in Baghdad left 25 people dead on Tuesday, as a wave of attacks continued amid the US combat troop withdrawal from Iraq.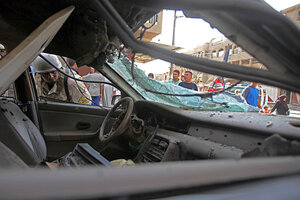 Karim Kadim/AP
Suspected Al Qaeda-linked militants killed five policemen in the second deadly attack in a week on security checkpoints, while a car bomb in a crowded market in the southern city of Kut left at least 20 people dead and dozens injured.
An Iraq Interior Ministry official speaking on condition of anonymity says the five were killed at a checkpoint on the outskirts of the affluent West Baghdad neighborhood of Mansour after gunmen with silencers opened fire on the checkpoint at dawn Tuesday. He says they left the black flag of the self-declared Islamic State of Iraq (ISI) at the site of the attack on a main highway on the edge of Mansour leading to Anbar Province.
It was the second checkpoint attack in less than a week. On Thursday, gunmen shot dead three Iraqi soldiers in the Sunni neighborhood of Adhamiya while roadside bombs near the scene of the shooting killed 13 more people, including six soldiers and police. The attackers also planted the flag of the ISI, which later claimed responsibility for the attack as a strike at what it considers a puppet government of the US.
"The people who carried out the Mansour attack are the same group that carried out the Adhamiya attack two days ago – they used the same methods," said Qassim Atta, the Iraqi government's Baghdad security spokesman. "This is just to prove their presence and to try to influence and impair the citizens confidence in the security forces," he told U.S.-funded al-Hurra television.
---