Israel-Lebanon clash: Did Israeli soldiers step into Lebanese territory?
Yesterday's Israel-Lebanon clash, sparked when Israeli soldiers went to cut down a tree, highlights the confusion that can arise due to slight discrepancies between a 12-foot security fence and the actual border.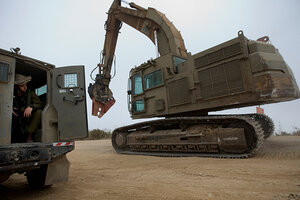 Ariel Schalit/AP
Yesterday's Israel-Lebanon clash, the deadliest incident in four years along the tense border, continued to reverberate Wednesday with Israel calling on the United States to cease its financial support for the Lebanese Army.
Sheikh Hassan Nasrallah, the leader of the militant Shiite Hezbollah, warned on Tuesday night that his organization would come to the aid of the Lebanese Army if it came under further attack by Israel.
"From now on, if the army is attacked in any area where the resistance has a presence or a say, the resistance will not stand idly by," he said in a televised speech before an audience of supporters in southern Beirut.
The United Nations Security Council expressed its "deep concern" over the deadly clash and "called on all parties to practice utmost restraint" to prevent any further escalation.
---