Egypt: Gaza militants actually did launch Monday's rocket attacks from Sinai
After initial denials, Egypt said yesterday that Monday's rocket attacks on Israeli and Jordanian resort cities came from Gaza militants operating in the Sinai Peninsula.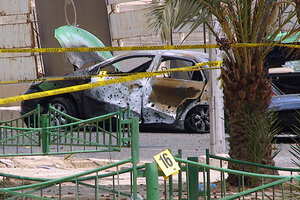 Abraham Farajian/Reuters
Egypt, contradicting its initial denials, has acknowledged that Gaza militants operating in the country's Sinai Peninsula launched the deadly rocket attacks on Israel and Jordan earlier this week. At least five rockets hit the Red Sea border area Monday, killing one Jordanian and wounding at least three others.
Egypt's state news agency on Wednesday blamed Palestinian factions from the Hamas-ruled Gaza Strip, operating in the neighboring Sinai Peninsula, for the rocket volley. This is the second attack believed to originate from the Sinai in four months, highlighting Egypt's ongoing internal security problems in the largely lawless, desert frontier.
"Egypt has long had serious security concerns in the Sinai and Egypt commits a lot of energy to keeping Sinai secure – not for the benefit of Israel, but for the benefit of Egypt," says Jon Alterman, director of the Middle East program at the Center for Strategic and International Studies in Washington. "Any largely unpopulated space is hard to secure and a lot of the security concerns in Sinai are linked to kinship groups that are extraordinarily hard to penetrate."
---
Follow Stories Like This
Get the Monitor stories you care about delivered to your inbox.