From intifada hub to model Palestinian city: How Jenin turned around
Once the heart of the intifada, Jenin is today lauded as a model of cooperation between Israeli and Palestinian security forces. Israeli Jews may soon be allowed to shop here again, bringing $3 million per weekend.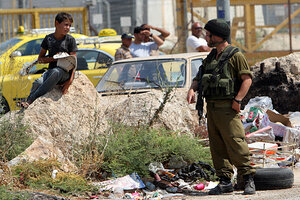 Mohammed Ballas/AP
In a dramatic turnaround, the Palestinian city that served as the heart of the second intifada now boasts a new shopping mall. A return of Israeli Jewish shoppers after nearly a decade appears imminent and – as of today – the city boasts its first cinema.
Jenin served as the launching ground for more bombing attacks than any other Palestinian city during the intifada, or uprising, that began in 2000. And it became synonymous for many with Israel's disproportionate use of force after the Israel Defence Forces (IDF) razed its hardscrabble refugee neighborhood during a controversial counteroffensive eight years ago.
But today, both Israelis and Palestinians see Jenin as a model of cooperation between their respective security forces, which is paving the way for progress in the stalled peace talks and is building up the kind of self-government that Palestinian leaders see as a prerequisite to an eventual state of their own.
"There's real cooperation on a daily basis, from the command level to the field level. And there's cooperation in the field of counter terrorism intelligence'' says Gershon Baskin, codirector of the Israel Palestinian Center for Research and Information. "The logic is that Palestinians need to provide security for Palestinians" rather than for Israelis.
---