Iraq attacks likely to increase during Ramadan, says US
With temperatures of 120 degrees, little electricity, and an expected increase in politically linked religious fervor around the Muslim holy month, Ramadan could bring a spike in Iraq attacks.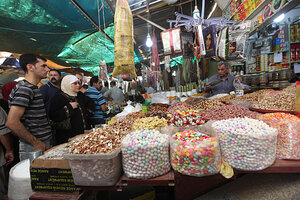 Mohammed Ameen/Reuters
The US expects attacks in Iraq to continue to spike as the holy month of Ramadan begins this week, a top American general warned on Monday after explosions in the southern city of Basra resulted in one of the deadliest weekends in months.
Lt. Gen. Robert W. Cone, the deputy commanding general of US forces in Iraq, and his Iraqi counterpart told reporters that insurgents were also likely taking advantage of the lack of a government to launch a series of high-profile attacks aimed at reducing confidence in Iraqi security forces.
"We've seen in the last few days an increase in attacks here, particularly the Basra attack that we saw yesterday, which involved significant casualties and was of significant concern," said Cone, who is in charge of operations for US Forces-Iraq.
Basra, crucial to reconstruction, targeted by bombs
Iraqi police officials initially said explosions in a crowded market on Saturday were a result of a generator exploding. But on Sunday, as the death toll rose to at least 43 dead and 185 injured, many of them women and children, it became clear that roadside bombs and a car bomb were responsible for the explosions.
Basra, Iraq's second-biggest city and the capital of the southern oil region, has generally escaped the violence of Baghdad since Iraqi forces pushed out Shiite militias two years ago. The city, which is known as one of the calmest in the country, is vital to Iraq's reconstruction.
---