Is Hezbollah right that Israel assassinated Lebanon's Rafik Hariri?
Hezbollah leader Sheikh Hassan Nasrallah of Lebanon presented intercepted Israeli reconnaissance footage in a news conference aimed at bolstering his case. While skeptics abound, some of the footage included previously unreleased details.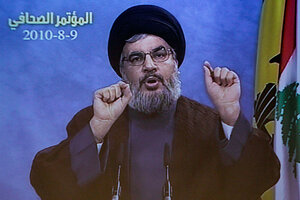 AP
On Monday night, the leader of Hezbollah showed intercepted Israeli reconnaissance footage and confessions of Israeli spies to back his accusation that Israel was responsible for the assassination of former Lebanese prime minister Rafik Hariri – an explosive murder under investigation by an international tribunal.
"Israel has the capability to carry out this type of operation, such as Hariri's assassination and the other assassinations that targeted Lebanon during the past few years," said Sheikh Hassan Nasrallah, adding that Israel's motive was to cast the blame on its enemies, Syria and Hezbollah.
"Israel wouldn't miss a chance to create uproar and use Hariri's blood to drive Syria out of Lebanon and besiege the resistance," he said referring to Hezbollah.
The dramatic revelations, which included previously unknown details on a key 1997 battle between Hezbollah and Israeli commandos, is seen as part of a preemptive move by Lebanon's militant Shiite group to deflect accusations against its own members in the assassination.
---