Is Israel really likely to attack Iran next summer?
That's the argument in an Atlantic Monthly cover story out this week. Others say Israel is striking a tough pose on Iran to push the Obama administration toward taking action on its own.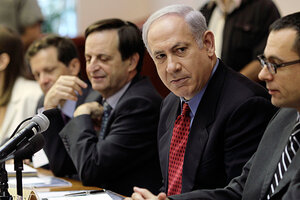 Oliver Weiken/Reuters
Jeffrey Goldberg writes in the September issue of the Atlantic Monthly that there's a more than 50 percent chance Israel will seek to attack and destroy Iran's nuclear program by next summer and that Prime Minister Benjamin Netanyahu will probably make his mind up on the issue by December.
To Mr. Goldberg and a number of commentators, his article is merely a fairly accurate depiction of current Israeli thinking. To others, the mostly anonymous Israeli officials who spoke to Goldberg were being self-serving, seeking to create a greater degree of political and public comfort with the idea of an attack on Iran that most expect would see retaliation against US as well as Israeli interests and potentially draw the United States into its third major conflict in a decade.
"Although Goldberg does not explicitly call for the United States to attack Iran, and is careful to acknowledge the potential downsides of this option, the tone and thrust of the article is clearly intended to nudge the Obama administration toward an attack," argues Stephen M. Walt, a professor at Harvard's Kennedy School and co-author of the "The Israel Lobby and US Foreign Policy," on his blog at Foreign Policy magazine.
---
Follow Stories Like This
Get the Monitor stories you care about delivered to your inbox.