In Iraq, combat troops head home to US with guitars, hope
As planned, US combat troops departed Baghdad this weekend. The 4th Stryker Brigade Combat Team, 2nd Infantry Division, reflected on their efforts – and Iraq's future.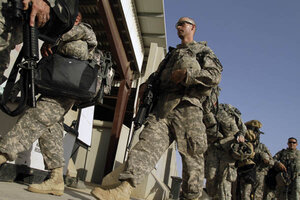 Maya Alleruzzo/AP Photo
The last US combat brigade of the Iraq war is leaving – a milestone in the seven-year war that has left soldiers and commanders heartened by progress here but unsure whether the gains they've fought so hard for will hold.
On the airfield at the Baghdad airport that was one of the first places secured by US combat troops as they moved into the Iraqi capital in 2003, soldiers from the 4th Stryker Brigade Combat Team, 2nd Infantry Division, boarded planes over the weekend to Fort Lewis, Wash.
"We're going home!" some of them shouted over the roar of the engine of the C-17 cargo plane after they cleared their weapons, stowed their duffel bags, and sat back for the first leg of the long journey back.
In the waiting room, the laptops that allowed them to keep in daily touch with their families on this deployment displayed photos of the wives and children that many would soon be seeing.
The brigade, designed around the armored Stryker vehicle first sent into battle here in 2004, played a key part in urban fighting in the military surge. Nearly half the unit spent a record 15 months deployed in the worst of the fighting in Diyala Province three years ago. Throughout the war, three Stryker brigades with more than 12,000 soldiers were deployed in Iraq.
While combat troops will remain to train, advise, and conduct joint counterterrorism operations, the soldiers' departure marks President Obama's pledge to bring all combat brigades home by Sept 1. Under the current US-Iraq security agreement, the remaining 50,000 US forces will be out by this time next year. The remaining troops and their brigades are also fully combat ready but are here on advisory and assistance missions.
---