Israeli soldier Facebook photos: Youth culture and rules of war collide
Former Israeli soldier Eden Abergil's Facebook photos of her posing with Palestinian prisoners violated Israel Defense Force and international rules governing the photographing of detainees.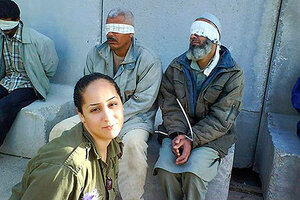 sachim.tumblr.com/Reuters
Former Israeli soldier Eden Abergil still says she doesn't know what was wrong with posting photos of her posing with bound and blindfolded Palestinian prisoners on her Facebook page. But the incident – which has dominated Israeli and Palestinian news coverage this week – is a reminder of how hard it is getting for the world's armies to control the flow of images and information in an era of Youtube, WikiLeaks, and digital cameras.
As such things go, this is an embarrassing incident, but fairly minor. The 2004 leak of soldiers photos that documented a culture of torture at the US military's Abu Ghraib detention facility in Iraq fueled global outrage, undermined US efforts there, and ended in prosecutions for some of the enlisted soldiers involved.
---