Suicide attack on Iraqi Army frustrates Iraqi hopes for security
A suicide attack at an Iraqi Army recruitment center killed more than 50 people and wounded more than 120. Shopkeepers in the neighborhood blamed lack of political progress and called promises of security 'empty.'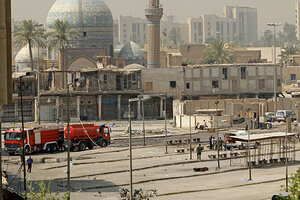 Hadi Mizban/AP
A suicide bomber detonated explosives strapped to his legs at an Iraqi Army recruiting center early Tuesday, killing at least 50 people and wounding more than 120, including an Iraqi general, in one of the worst attacks this year.
Iraqi officers on the scene said the bomber posed as a recruit along with hundreds of young men lined up for the chance to enlist in a country where 1 in 3 people are jobless. An officer involved in cordon security said the bomber had gone through a security check and was handing his identification to officers around the Iraqi general when he detonated the explosives.
"This is the new method – they booby trap the legs," said another senior Army officer who asked not to be identified by name. Iraqi security forces generally check for suicide vests or belts during pat-downs.
The early morning attack, at a main Army recruiting center in east Baghdad, took place the day after one of the main Iraqi political blocs suspended talks on forming a coalition government and as soldiers from the last US combat brigade head out of the country to comply with President Obama's Sept. 1 deadline for combat forces to be out of Iraq.
---