Palestinians warn Israel peace talks could be quickly derailed
Palestinian leaders have been warning that renewed peace talks with Israel, scheduled for next week, could be derailed after an Israeli settlement freeze expires. But behind the threats is a more nuanced and compromising position.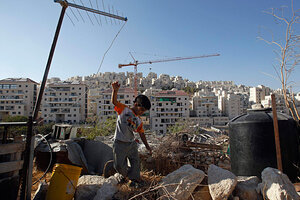 Ammar Awad/Reuters
For more than a year, the Palestinians insisted on an Israeli settlement freeze as a precondition to entering direct talks with Israel. But recently they dropped their demand, paving the way for the first direct peace talks with the Israelis since early 2009.
Or did they?
While Palestinian leaders say they'll show up for the talks, slated to start next week in Washington, they also insist they'll withdraw if Israel doesn't extend a settlement expansion moratorium that expires on Sept. 26. Since no one expects substantial progress in a 60-year-old conflict to be made in a little under a month, and restarting talks only to have them break down immediately would probably do more harm than good, it's reasonable to wonder what's going on here.
IN PICTURES: Israeli settlements
It appears that the Palestinians have made a tactical switch to shift the claims of being the "obstructionist" party from themselves to the government of Israeli Prime Minister Benjamin Netanyahu. The burden will now be on Mr. Netanyahu to extend the freeze in order to keep talks that US President Barack Obama has staked considerable prestige on inching forward.
---