Joe Biden lands in Iraq to underscore 'growing urgency' for new government
Vice President Joe Biden arrived in Baghdad on Monday to mark the end of America's combat mission and push Iraqi leaders to form a new government.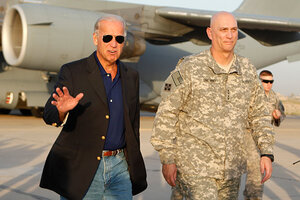 Hadi Mizban/AP
Vice President Joe Biden arrived in Baghdad on Monday to mark the end of the US combat mission in Iraq and underscore America's "growing sense of urgency" that a new Iraqi government be formed.
Mr. Biden landed in Baghdad on a C-17 military transport plane – military flights are considered the only safe mode of air travel for United States officials despite the relative improvement in security – ahead of a ceremony on Wednesday marking the withdrawal of the last US combat troops from Baghdad. The drawdown is in line with President Barack Obama's pledge to end the combat phase of the seven-year war by Sept 1.
Almost six months after Iraqis voted in national elections, talks to form a coalition government remain stalled over who would be prime minister.
"We are determined to build a long-term partnership with the government of Iraq and the Iraqi people, but to build a partnership you need a partner," Biden's national security adviser, Tony Blinken, told reporters shortly after arriving at the sprawling US embassy in Baghdad's more secure Green Zone.
Security forces on high alert ahead of handover
Prime Minister Nouri al-Maliki has placed security forces under high alert ahead of the Sept. 1 handover.
As Biden arrived in the country for his fifth visit as vice president, announcements sounded at the embassy warning personnel to take cover because of possible rocket or mortar attack.
---