Maliki marks end of US-Iraq combat operations
Iraqi Prime Minister Nouri al-Maliki welcomed a 'new stage' in US-Iraq relations today, amid trepidation over the US pulling out before Iraq forms a new government.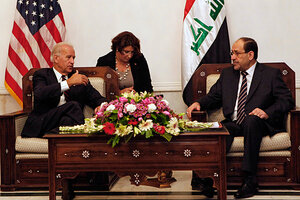 Hadi Mizban/AP
Security forces were on high alert as Prime Minister Nouri al-Maliki marked the official end of the US combat mission here by telling skeptical Iraqis that a new day had dawned for their country.
"You are regaining the sovereignty of your country," Mr. Maliki told a divided nation in an address on state-run TV. "Our relations with the United States have entered a new stage between two equal, sovereign countries."
Though the US combat role is officially ending, roughly 50,000 US troops remain and as long as they are in Iraq it's possible they'll be involved in fighting.
IN PICTURES: Iraq combat mission over
The withdrawal of the last US combat brigades before tomorrow's deadline was a victory both for President Barack Obama, who made it a main campaign pledge, and for Maliki, who is fighting to remain prime minister in a new government. Despite a parliamentary election six months ago, a new government has not yet been formed.
Biden stresses urgency
The timing of Mr. Obama's plan was decided long before Iraq's political impasse. Many Iraqis blame the political vacuum for ongoing attacks – some of which are suicide attacks that US officials say are being carried out by remnants of Al Qaeda in Iraq.
Unlike June 30 last year, which was declared a day of national celebration as US troops withdrew from the cities, the capital was somber on Tuesday.
---