The trickiest issue in Israeli-Palestinian peace talks
As Israeli-Palestinian peace talks get under way in Washington, the largely Arab neighborhood of Sheikh Jarrah in East Jerusalem shows the intensifying battle for control of the city.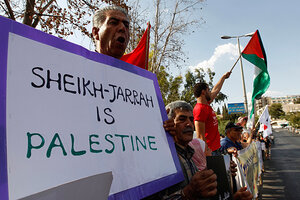 Baz Ratner/Reuters
As Israeli Prime Minister Benjamin Netanyahu and Palestinian leader Mahmoud Abbas enter direct peace talks on Thursday, an intensifying battle for Jerusalem has rendered the conflict's trickiest issue even more intractable.
A key flashpoint in this battle is Sheikh Jarrah, a predominantly Arab neighborhood revered by religious Jews. While the number of new Jewish residents remains small, Palestinians and human rights activists see their expanding presence as fulfilling a larger plan.
Overall, some 2,000 Jewish residents have moved into strategic locations in every Palestinian neighborhood around the Old City, home to key holy sites.
Many Israeli Jews see the "redemption" of such areas as crucial to cementing Israel's sovereignty over its "undivided and eternal capital" and preventing the kind of partition of Jerusalem that Israeli Defense Minister Ehud Barak suggested yesterday.
"It's not that there is this one little [Jewish] settlement in Sheikh Jarrah; it's part of this bigger strategy," says Orly Noy of Ir Amim, a human rights group that seeks to make Jerusalem a city of two peoples. "Fifty residential units in Sheikh Jarrah are part of a ring of settlements that aim to foil any possibility of a Palestinian capital in East Jerusalem."
The history
---