US, Iraqi leaders praise sacrifices of war, 'historic opportunity'
As US-Iraqi relations enter a new phase, America's top brass convened at Camp Victory to mark the transfer of command from Gen. Ray Odierno to Lt. Gen. Lloyd Austin III.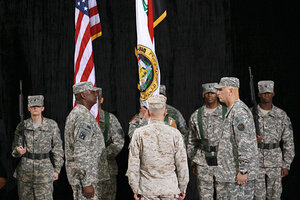 Thaier al-Sudani/Reuters
The United States marked the official end of its combat role in the seven-year Iraq war today, acknowledging the immense sacrifices of a war that has divided Americans as well as Iraqis and pledging to help the country move forward.
"We fought together, we laughed together, and sometimes cried together. We stood side by side and shed blood together," Gen. Ray Odierno told Iraqi military leaders and hundreds of American soldiers and officers gathered in the marble foyer of one of Saddam Hussein's former palaces. "It was for the shared ideals of freedom, liberty, and justice."
At the ceremony, which took place at Camp Victory on Baghdad's outskirts, Vice President Joe Biden said it was "no secret" that the war had divided Americans but it was time to put those differences aside. He paid tribute to the more than 4,400 servicemen and women who had been killed here and the tens of thousands of Iraqi security forces and civilians who had lost their lives.
"I truly believe the darkest days are behind us," he said, flanked by Defense Secretary Robert Gates and Chairman of the Joint Chiefs of Staff Adm. Michael Mullen. Huge US flags marked the marble staircases where soldiers living in the palace hung their laundry to dry in 2003.
---