IAEA report: What's driving Iran's latest bout of nuclear obstinacy
Following an International Atomic Energy Agency (IAEA) report that charges Iran with obstructing inspectors of its nuclear program, Iran said Tuesday that it can rightfully replace nuclear inspectors.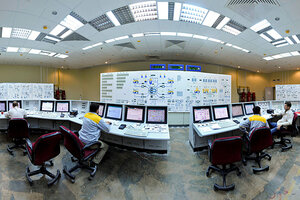 Mehdi Ghasemi/ISNA/AP/File
Iran reacted angrily Tuesday to charges from the United Nations nuclear watchdog that it was hindering an investigation of its nuclear programs by blocking experienced inspectors and limiting access and design information.
In its quarterly report on Iran, the International Atomic Energy Agency (IAEA) stated Monday that Iran has "not provided the necessary cooperation to permit the Agency to confirm that all nuclear material in Iran is in peaceful activities."
The report provides the latest indication of a spreading pattern of restrictions under President Mahmoud Ahmadinejad to limit the work of nuclear inspectors, according to Iran experts. They say hurdles facing inspectors are raised as American and Western pressure on Iran increases over its nuclear program. The UN Security Council (UNSC) imposed a fourth round of sanctions last June.
"What we are seeing is an accelerating loss of transparency into Iran's nuclear fuel-cycle program," says Shannon Kile, a nuclear specialist at the Stockholm International Peace Research Institute (SIPRI) in Sweden. "I'm not surprised … that the Iranians are becoming even less cooperative than before. Everyone expected after the last [UN vote] that the Iranians would find some way to retaliate."
---