Iran to release one of three US hikers amid pressures at home and abroad
In addition to facing outside pressures on nuclear initiatives and human rights issues such as the US hikers, Iranian officials still fear the opposition Green Movement at home.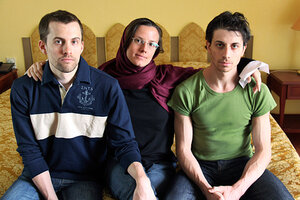 Press TV/AP/File
In an apparent bid to ease mounting global pressure on a host of issues, Iranian officials say they will release one of three US hikers held for more than a year.
Though the US says it knows nothing of the release, journalists in Tehran received a text message from Iran's Islamic Guidance ministry, saying they could witness the event at 9 a.m. Saturday at the Esteghlal Hotel – the same spot where the American detainees were allowed to meet their mothers before news cameras last May. [Update: Iranian officials have announced the name of the hiker: Sarah Shourd. The status of the other hikers, Shane Bauer and Josh Fattal, remains uncertain.]
"Obviously we would be hearing from Iranian leaders that [they have] not given in and it has been on humanitarian grounds, but … the amount of criticism which has been building up against the Islamic regime recently has been too much," Prof. Sadegh Zibakalam of Tehran University told Al Jazeera-English. "Maybe it's a move trying to alleviate some of the pressure that has been building up against the Islamic regime at international level."
The announcement comes a day after Iran said it was suspending a sentence of death by stoning of a woman convicted of adultery, after European leaders decried the sentence as "barbaric beyond words."
---
Follow Stories Like This
Get the Monitor stories you care about delivered to your inbox.