In Iraq, a search for four prisoners who escaped maximum-security US prison
The four Iraqi prisoners were among some 200 at a maximum-security facility guarded by US troops. They were discovered missing Wednesday night.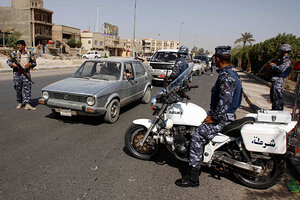 Nabil al-Jurani/AP
Four prisoners escaped a maximum-security US military facility housing Al Qaeda in Iraq (AQI) suspects and former members of Saddam Hussein's regime, officials said Thursday, in an embarrassing development for American forces as they hand over security operations in Iraq.
The four prisoners, still at large, were among some 200 guarded by American troops at the Karkh prison, formerly known as Camp Cropper, just outside Baghdad. They include many convicted or suspected terrorists and eight former regime officials, five of whom have been sentenced to death.
US military officials didn't identify the prisoners and offered few details on how the escape happened, saying only that they were hunting the men.
"We're working in concert with the Iraqi security forces to continue to search for them," said Brig. Gen. Jeffrey Buchanan, a US military spokesman. "Obviously, it's regrettable."
US takes full blame for escape
The US military said that prison guards late Wednesday caught two detainees trying to escape from Compound 5, a separate facility where American troops are guarding reportedly the most dangerous prisoners at Karkh. When US forces conducted a thorough search, they found that four prisoners were missing.
---