Some see Turkey's secularism at stake in Sept. 12 referendum
Turks vote Sunday on 26 far-reaching constitutional amendments put forward by the ruling party, which some suspect of trying to erase the Muslim country's secularism.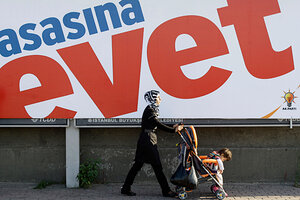 Ibrahim Usta/AP
Turks are preparing to vote on a package of far-reaching constitutional changes Sunday, in what has turned into a referendum on the country's Islamic-leaning ruling party.
Critics say the Justice and Development Party (AKP) is bent on an Islamist agenda, and wants to erase modern Turkey's secular traditions, further weaken once-hallowed state institutions like the military, and manipulate the judiciary to increase its own power.
Prime Minister Recep Tayyip Erdogan and his ministers have argued that their sole aim is to liberalize the 1982 constitution, imposed after a military coup, by democratizing the state in line with European standards, while better protecting the rights of every citizen.
Mr. Erdogan called the vote the "most important" event in Turkey's recent political history. But despite eight years in power – during which Turkey became the world's 15th-largest economy – the AKP has not been able to bridge the social, political, and economic divisions enough to stave off public mistrust of its intentions.
Polls suggest the amendments will pass, though by a small margin – a result that analysts say would likely entrench current problems.
---