Afghanistan's next challenge: elections 2010
A credible parliament must emerge from Afghanistan's elections this month. Can Janan Mosazai, a young, Western-educated candidate help that happen?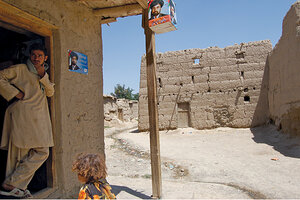 Dan Murphy/The Christian Science Monitor
The violence engulfing Afghanistan, the paralyzed political institutions in Kabul, and the very real chance that the war-torn country's upcoming elections will be swayed once again by vote-buying and fraud, would seem enough to drive talented young people here as far from politics as they can get.
After all, running for parliament, in elections scheduled for Sept. 18, is expensive and dangerous. The institution has little real power, compared with that of the president, in the system the United States helped craft after the 2001 invasion. And its current iteration is filled with warlords.
But to listen to Janan Mosazai, an energetic 30-year-old legislative candidate with a political science degree from Canada's Carleton University, the fight for Afghanistan's future begins now, and begins at the ballot box.
"Yes, the parliament has been more or less politically neutered, and significant electoral fraud meant the will of the voters was not demonstrated in the first place," says Mr. Mosazai. "But I still believe a better future is possible, and parliament must become a credible alternative to a government that has failed to present a comprehensive vision of Afghanistan's future for the past eight years."
At stake in this election is crafting a parliament that acts as a check on executive authority and channels the interests of constituents into Afghanistan's politics – more so than the individual winners and losers. Cynicism among average Afghans – who generally believe the current legislature is filled with men and women simply there to line their pockets – is rampant.
---