Yemen goes on offensive against Al Qaeda
Yemen's government stepped up its battle against Al Qaeda in the Arabian Peninsula with an offensive this week in a southern city. US aid to Yemen has doubled in 2010, with most going to military assistance.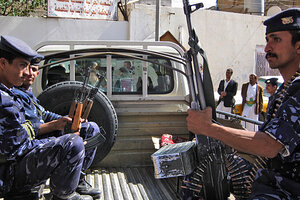 AP
The Yemeni government's fight against Al Qaeda reached a new high this week after government forces launched a major military offensive against a city in southern Yemen known as a base for Al Qaeda-affiliated operatives.

Fighting between government forces and militants started on Tuesday in Hawta, a city in the highly volatile Shabwa Province, and has continued for the past three days. Yemeni forces have surrounded Hawta with tanks, and the city has come under arial attack.
The siege of Hawta coincided with an official visit Monday to the Yemeni capital Sanaa by John Brennan, the US assistant to the president for counterterrorism and homeland security. Mr. Brennan met with Yemeni President Ali Abdullah Sanaa to discuss US financial assistance for Yemen and continued support for the government to fight Al Qaeda, according to a White House press statement.

There was speculation about the connection between Brennan's visit and the military campaign against Al Qaeda in the Arabian Peninsula (AQAP), especially given that Anwar al-Awlaki, a radical US-born cleric linked to the Fort Hood shootings, is known to be based in Shabwa Province. But the Yemeni government has said that the bombardment of Hawta was in retaliation for an Al Qaeda attack on a Yemeni liquid natural gas pipeline last week.
---