The Daily Show is listening to King Abdullah. Is anyone else?
On the Daily Show tonight, Jon Stewart is hosting Jordan's King Abdullah. Abdullah gets full points for hipness, but restoring his country's influence is another matter.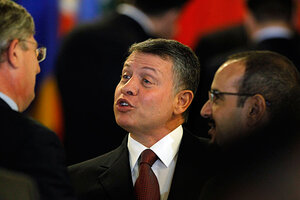 Jason Reed/Reuters
If "hipness" points count in politics, the international standing of Jordan's King Abdullah II is about to go through the roof: Tonight he'll be appearing on "The Daily Show with Jon Stewart."
And King Abdullah is pretty cool to begin with. He's married to Queen Rania, one of People Magazine's 50 most beautiful people. Before becoming king, he appeared as an extra on Star Trek: Voyager. An amateur race-car driver, he also personally drove President Barack Obama to the airport when he visited Jordan prior to being elected. Obama later joked: "I won't tell you how fast [Abdullah] was going."
Unfortunately for Abdullah, the first Arab leader invited to Obama's White House, cool can only take you so far. He's struggled to acquire the kind of political capital once wielded by his father, King Hussein, who made peace with Israel and helped nudge Israeli-Palestinian peace talks forward.
---