As Israel settlement freeze ends, one-year peace plan begins
Israel's 10-month settlement freeze ends today, and the clock starts ticking on a Sept. 2011 deadline for a comprehensive peace agreement.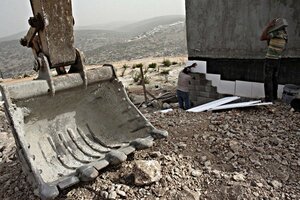 Nir Elias/Reuters
If negotiators can overcome today's deadline to resolve a dispute on Israeli settlement expansion and keep peace talks alive, the date of September 2011 will begin to loom as the target for reaching an Israeli-Palestinian peace agreement.
The one-year goal to reach a comprehensive peace agreement was set before the start of direct talks earlier this month in order to calm Palestinian worries that the negotiations would continue ad infinitum. But given the past failure of Israeli and Palesitnian negotiators to meet joint deadlines, is there any reason to believe that this time will be different? Might another missed negotiating target do more harm than good?
"Given the fact that the Middle East is a grave yard for timelines and deadlines, the latest ones are understandably being dismissed,'' said Scott Lasensky, a senior research associate at the U.S. Institute for Peace, a non-profit government think tank.
The target is for a broad "framework" agreement dealing with the core issues of the conflict: control over Jerusalem, borders, the status of Palestinian refugees and water.
But skeptics say that Israeli Prime Minister Benjamin Netanyahu and Palestinian President Mahmoud Abbas are too far apart on these issues to close the gaps, and that a deadline inflates expectations and could spur unrest if not met.
---