Maliki gets Shiite nod to head new Iraqi government
Prime Minister Nouri al-Maliki got the backing of Iraq's main Shiite bloc today, leaving him within four seats of the majority needed to form a new government.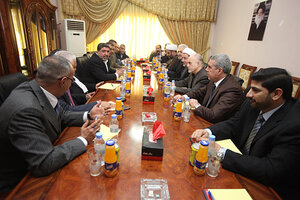 Karim Kadim/AP
Iraqi Prime Minister Nouri al Maliki on Friday took a major step toward a second term by securing the support of a Shiite Muslim political bloc that includes the anti-American cleric Muqtada al Sadr.
The reversal by Mr. Sadr's bloc – which until recently had strongly opposed returning Maliki to power – leaves Maliki just shy of a parliamentary majority and figures to end nearly seven months of political deadlock that the US military has blamed for a recent uptick in insurgent attacks.
While Obama administration officials have been pushing Iraqi political leaders to end the stalemate, and have privately said that a Maliki victory would help bring about a peaceful transfer of power, the critical role played by Sadr brings a decidedly mixed outcome for Washington. Sadr's followers waged some of the most brutal attacks against US forces during the Iraqi civil war and have close ties to Iran.
Maliki four seats shy of parliamentary majority
Maliki, whose mostly Shiite State of Law party finished a close second in the March elections with 89 parliamentary seats, would control an additional 70 seats with the support of the other Shiite parties, of which Sadr's is the largest. That would leave Maliki four seats shy of the 163-seat majority needed to form a government.
That support is likely to come from the Kurdish political bloc, which won 43 seats, and now is poised to play the role of kingmaker. Experts say Kurdish leaders will put pressure on Maliki to speed up the resolution of the disputed oil-rich city of Kirkuk, which Kurds believe is rightfully theirs.
---