Deadline extended in bid to keep Israel-Palestinian talks alive
Palestinian leaders say continued settlement expansion in the West Bank could halt peace talks by the end of the week. Is an acceptable compromise in the works?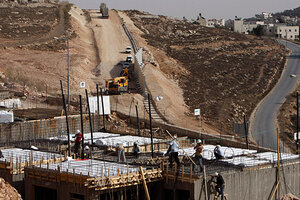 Ronen Zvulun/Reuters
Sputtering Israeli-Palestinian peace talks received another reprieve over the weekend when a key Arab League meeting was postponed until Friday. It was the second delay for the meeting, which Palestinians said could mark their withdrawal from negotiations if Israeli settlement expansion continued.
Since a series of previous Palestinian deadlines have come and gone without decisive action, there's no guarantee that much will change on Friday. But diplomatic maneuvering is heating up, with the Obama administration searching for a formula that will keep Israeli Prime Minister Benjamin Netanyahu and Palestinian Authority President Mahmoud Abbas at the negotiating table, notwithstanding that both men continue to make mutually exclusive demands.
Mr. Netanyahu insists a permanent settlement freeze is off the table. Mr. Abbas insists on such a freeze as a precondition for continued talks, since he argues that expanding the amount of territory under Israeli control is antithetical to negotiations designed to eventually reduce the Israeli presence in the occupied territories.
While that bodes ill for much progress, let alone a final peace agreement within a year, as President Obama's administration says is still possible, there is still some hope that a workable compromise can be found.
---