Why Mahmoud Abbas is so committed to Israeli-Palestinian peace talks
As Israeli Prime Minister Benjamin Netanyahu resists pressure to extend a settlement freeze, Palestinian Authority President Mahmoud Abbas faces mounting criticism for remaining in peace talks.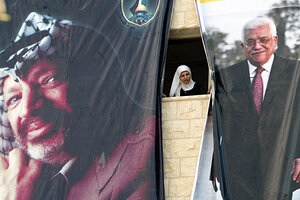 Mohammed Ballas/AP
Palestinian Authority President Mahmoud Abbas is now in political limbo after having staked his career on the questionable proposition that a viable Palestinian state can be achieved through negotiations with Israel.
Negotiations are what make Mr. Abbas tick. But the direct talks with Israel, which began a month ago at the White House, are in danger of collapse after Israel's refused last week to renew a moratorium on settlement construction in the occupied West Bank.
As a top member of the Palestinian Liberation Organization (PLO) in the 1970s and 1980s, it was Abbas who established contact with dovish Jews and Israelis, and he was the Palestinian architect of the 1993 Oslo agreement with Israel on Palestinian self-rule. Unlike the late PLO chairman, Yasser Arafat, and other PLO leaders who used armed struggle and violence, Abbas has always tended to prioritize diplomacy.
---