Israel loyalty oath bill stirs Arab-Israeli unease
Israeli Prime Minister Benjamin Netanyahu is pushing for a loyalty oath that would require non-Jewish candidates for Israeli citizenship to pledge loyalty to Israel as a 'Jewish state.'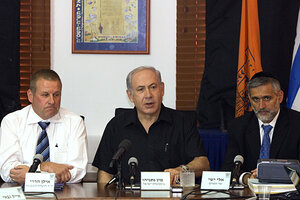 Jack Guez/AP
Israel's cabinet next week will consider a bill that would require non-Jewish candidates for Israeli citizenship to pledge allegiance to the country as a Jewish state.
The bill, backed by Prime Minister Benjamin Netanyahu, calls for an amendment to Israel's citizenship law to include "a Jewish and democratic state" in a mandatory oath of loyalty.
In addition to kicking up accusations of discrimination against the country's Arab minority, observers suggested the proposal is timed to push Israel's diplomatic campaign to force the Palestinians to recognize Israel as a Jewish state as a condition for a peace accord.
"There is an agenda here," says Yedidia Stern, a law professor at Bar Ilan University and vice president of the Israel Democracy Institute. "The agenda is to push in the face of everybody how serious we are about the definition" of Israel as a Jewish and democratic state.
Mr. Netanyahu's office announced its endorsement of the amendment just as US, Israeli, and Palestinian negotiators are struggling to resolve a dispute over settlement expansion that has Palestinian leaders threatening to abandon direct negotiations.
Israeli journalists asked the prime minister Thursday if his support for the bill was meant to buy the support of ultranationalist Foreign Minister Avigdor Lieberman, who failed to pass a controversial loyalty oath for Arab citizens, for an extension of a moratorium on new housing in the West Bank.
---