Will Abbas get, and accept, a two-month settlement freeze?
Prime Minister Benjamin Netanyahu is backing a 'loyalty oath' to appease Israel's right wing, and there are indications that Palestinian President Mahmoud Abbas will be offered a two-month settlement freeze to keep peace talks going.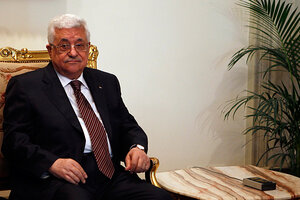 Amr Abdallah Dalsh/Reuters
A senior aide to Palestinian Authority President Mahmoud Abbas has signaled that his side will not abandon peace talks if Israel extends a West Bank settlement construction slowdown for two months.
Until recently, Israeli Prime Minister Benjamin Netanyahu has insisted that a new settlement freeze was off the table. But in recent days he's backed plans for a "loyalty oath" to the Jewish state that is popular with his far-right ally Avigdor Lieberman, who has staunchly opposed construction delays until now. That has prompted speculation that Mr. Netanyahu is sweetening the pill for Mr. Lieberman, following reports that the US has promised Israel better weapons and other incentives in exchange for a two month freeze.
Negotiator Nabil Shaath told the Associated Press on Wednesday that the two-month period would be used to forge an agreement on a border between Israel and a future Palestinian state. Mr. Shaath said another settlement freeze would be required if the sides failed to reach agreement during the two months.
---
Follow Stories Like This
Get the Monitor stories you care about delivered to your inbox.