Yemen attack underscores increasing Al Qaeda threat
The latest Yemen attack – on a vehicle carrying British embassy workers – shows how 'resilient and increasingly agile' Al Qaeda in the Arabian Peninsula (AQAP) have become, says one expert.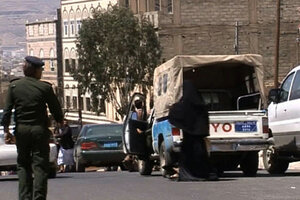 AFP Video/Photo/Newscom
An attack on a vehicle carrying five British embassy workers in the Yemeni capital, Sanaa, Wednesday has underscored the increasing threat posed by Al Qaeda extremists in this south Arabian nation.

Witnesses told the Monitor that two militants shot rocket-propelled grenades (RPGs), which they were hiding in bags, at an oncoming car before sprinting down a side street to escape the scene at 8 a.m. local time on Wednesday.

"The two men ran down the street covering their ears, yelling that there was a gas explosion," says Ali Al-Hakimi, one witness who lives nearby the scene of the attack. "They did this so we would think they had nothing to do with the explosion."

The attack injured one Briton, as well as two bystanders, a Yemeni women, and her daughter. Britain's second-ranking diplomat in Yemen, Fionna Gibb, was in the car, but escaped uninjured.
In a separate incident, a Frenchman who worked for the Austrian oil company OMV was shot dead by a company guard at the OMV compound in Sanaa yesterday. According to Yemen's official news agency, Al Qaeda was not involved in the murder.
---