A divided Lebanon waits for Iran's Mahmoud Ahmadinejad
Iranian President Mahmoud Ahmadinejad is making his first visit to Lebanon tomorrow. Hezbollah awaits with joy, its political opponents complain of Iranian meddling, and Israel is eying its northern border.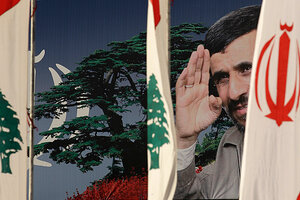 Hassan Ammar/AP
The chatter of families and the smell of grilled lamb and chicken from barbecues wafts through a newly built tourist park perched on a windy hilltop overlooking Lebanon's border with Israel.
This park, in an area occupied by Israeli troops until 10 years ago and pounded during the 2006 Hezbollah war with Israel, is a sign to many Lebanese of the revitalization of the south. But it's a symbol to others, particularly Israel, of what they fear most: an Iranian outpost on the border.
The development was paid for by Iran, whose President Mahmoud Ahmadinejad is due to arrive in Lebanon tomorrow to cement his relationship with Hezbollah, the Shiite political party and militia that is Israel's principal enemy in its northern neighbor.
Mr. Ahmadinejad will attend a rally Thursday in the nearby town of Bint Jbeil and briefly visit this park with its horseback rides, paintball arena, palm-thatched dining areas, and small-scale model of Jerusalem's golden-domed Al-Aqsa mosque – topped with an Iranian flag. Southern Lebanese supporters of Hezbollah are eagerly looking forward to Ahmadinejad's visit to this hilltop village, a key battleground in the 2006 war.
"This place means the same to Ahmadinejad as it does to us," says Mohammed Hussein, taking a break from cooking lamb kebabs. "This place is a symbol of sacrifice and freedom."
---