On Israel's doorstep, Ahmadinejad hurls taunts across the Lebanese border
Mahmoud Ahmadinejad today visited two south Lebanon towns that previously saw clashes between the Iran-backed militant group Hezbollah and Israel.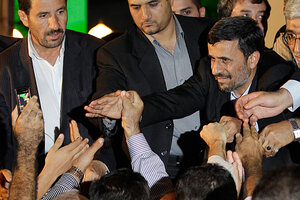 Hassan Ammar/AP
Iranian President Mahmoud Ahmadinejad toured Lebanon's border with Israel today, visiting two towns that have become lasting symbols of endurance and suffering for the Lebanese.
Thousands of Shiite Lebanese, mainly supporters of the militant Iran-backed Hezbollah but also members of allied factions, squeezed through the narrow streets of Bint Jbeil to reach a sports stadium where President Ahmadinejad was due to speak.
"I have a great feeling of pride that Ahmadinejad is coming to Bint Jbeil today. This is the citadel of resistance against Israel," says Hussein Ayoub.
The stadium was bedecked in Iranian and Lebanese flags with a giant banner saying "welcome" in Arabic and Farsi. Grim-faced and black-suited Hezbollah security men, part of Hezbollah's huge security operation for Ahmadinejad's visit, sternly scanned the enthusiastic crowd.
Israel has criticized Ahmadinejad's visit, warning that Iran is attempting to drag Lebanon into the "axis of extremist states." An Al Qaeda-affiliated group also issued threats against the Iranian president on the eve of his trip.
Significance of Bint Jbeil
Bint Jbeil is the largest Shiite town in the southern border district, and for 18 years it was occupied by Israeli troops. Israel withdrew from Lebanon in May 2000 in the face of a ferocious resistance campaign by Hezbollah.
---