Israeli settlement building surges as US pushes for a new freeze
Israeli settlement monitors estimate that construction has begun on 500 new units – nearly one-quarter of the number for all of 2008 – as settlers try to make up for lost time.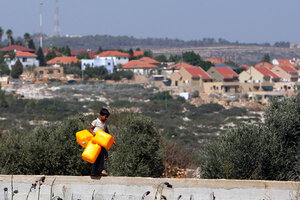 Mohammed Ballas/AP Photo
In the two and a half weeks since Israel's settlement freeze expired, there's been a surge in construction on new West Bank homes, dimming prospect the Palestinians will agree to resume peace talks.
"The resumption at this scale makes it more complicated to make arrangement that will allow a resumption of talks," says Palestinian government spokesman Ghassan Khatib. "They are putting more sticks in the wheels.''
In Beitar Illit, one of the biggest and fastest growing settlements, construction crews have started working on 100 new units previously stifled by the moratorium. As iron rods sprout up amid newly poured cement foundations, bulldozers are carving an entry road to an empty hill slated as a new housing development.
Monitors who toured dozens of building sites throughout the West Bank over the past week estimate work has begun on about 500 housing units – one-fourth the number of housing starts for all of 2008.
"A few hundred in two weeks is a lot," says Dror Etkes, a housing monitor who opposes expanded building, as he navigates from memory the construction sites at the perimeter of settlements. "Obviously [the settlers] felt that they had to start fast to have facts on the ground again in case there will be a new freeze so they'll have enough construction. This is the game."
---