Local war in southern Yemen pits government against militants
The Yemeni government launched air strikes against suspected Al Qaeda militants in southern Yemen's Abyan province this weekend.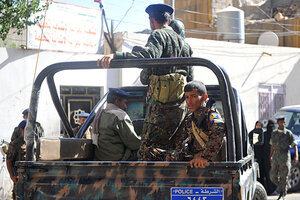 AP
A war has broken out in volatile southern Yemen between the government and local militants, further threatening the Arab world's poorest country.
This weekend, the government launched air strikes in the Abyan city of Moudia, which followed last month's aerial raids on a suspected Al Qaeda stronghold in neighboring Shabwa province. And since the fighting erupted in August, there have been nearly weekly skirmishes between soldiers and militants the government says belong to Al Qaeda in the Arabian Peninsula (AQAP).
"The battle in Abyan and Shabwa is growing; this, after all, is the home region of AQAP's commander, Nasir al-Wihayshi," says Gregory Johnsen, a Yemen specialist at Princeton University, in an email. "AQAP is trying to convince – through both intimidation and persuasion – members of Yemen's security services and military to come over to its side. For its part, the Yemeni government is striking back both through military strikes and by attempting to turn the tribes against al-Qaeda."
Since the unification of north and south Yemen in 1990, the south has been marginalized both politically and economically. Despite proportionate representation in the central government, southern Yemenis say their interests are not well represented. And despite being home to the majority of Yemen's oil reserves, the south remains desperately poor. (Editor's note: The original version was unclear about the nature of southern Yemeni representation in the central government.)
---