In Qom, Iran's supreme leader Khamenei aims to cement leadership over clerics
Iran's supreme leader Ayatollah Ali Khamenei made a high-profile visit to Qom today to demonstrate his leadership over a religious establishment divided by last year's election.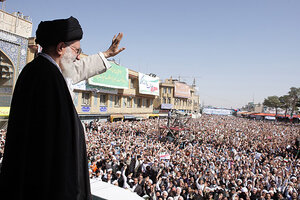 Khamenei.ir/Reuters
Iran's supreme leader Ayatollah Ali Khamenei began a high-profile visit today to Qom, Iran's holy city and the heart of Shiite learning. The trip, reported to last a week or more, is a bid to demonstrate that he remains in firm control of a religious establishment that has been shaken and divided by last year's controversial election and the violent protests that ensued.
State-run media highlighted the visit as "historic," and for days in advance showed images of clerics painting welcoming messages on cars and motorcycles, and readying stacks of posters.
Ayatollah Khamenei basked in the adulation of crowds given the day off from work and school, in welcoming scenes far removed from those of a year ago, when protesters across Iran chanted "Death to Khamenei."
"He wants to show off his legitimacy, especially [because] since the election his legitimacy and popularity were greatly damaged and for the first time in the history of the Islamic Republic we had a huge demonstration in Qom … unprecedented, in which people shouted slogans against Khamenei," says Mehdi Khalaji, an Iran expert at the Washington Institute for Near East Policy, who once trained at a seminary in Qom.
Iran's clerics divided
Iran's senior clerics were divided by the June 12, 2009, presidential vote, in which Mahmoud Ahmadinejad was anointed president for a second term amid credible charges of fraud. That result prompted hundreds of thousands – if not millions, according to some officials – of Iranians to take to the streets in protest.
---