Iran's Khamenei meets adoring crowds – but not dissenting ayatollahs – in Qom
Iran's supreme leader is in the holy city of Qom to cement his religious leadership. State-run TV shows the trip as a popular triumph, but key ayatollahs have been notably absent.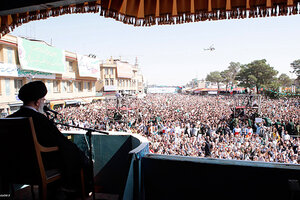 Khamenei.ir/Reuters
How important, in Iran, is the first official visit in a decade of the country's supreme leader to the holy city of Qom?
It is all-important, judging by the work of those in Iran's state-run media, tasked with portraying Ayatollah Ali Khamenei's "landmark visit" as an emotional pilgrimage to the people, and to hobnob with fellow eminent ayatollahs at the religious heart of the nation.
REPORT: In Qom, Khamenei aims to cement leadership over clerics
On Wednesday – the second day of a visit that will last at least a week – there were meetings with families of martyrs of the Iran-Iraq War of the 1980s.
But in the official media there was no talk about divisions among the clergy, which have torn Iran's religious establishment since controversial elections in June 2009. Nor was there any discussion of the absence from Ayatollah Khamenei's first Qom meetings of key grand ayatollahs, who have been critical of the government's lethal crackdown last year and of Khamenei's own "supreme" rule.
Drawing lessons from Khomeini's use of propaganda
Every government uses propaganda. But even before Iran's 1979 Islamic revolution it was counted a particularly important tool. Back then, the man who would go on to establish the Islamic Republic, Ayatollah Ruhollah Khomeini, rallied revolutionaries who were short on weapons with these words: "Propaganda is explosive as a grenade."
---