Palestinians mull alternatives to peace talks, including UN recognition
Palestinians are discussing other options if peace talks fail. Chief among them is seeking recognition as a sovereign state from the UN.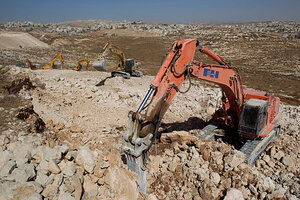 Bernat Armangue/AP
With Israeli-Palestinian peace negotiations in limbo over a dispute regarding settlement expansion, Palestinians are starting to think out loud about possible alternatives to peace talks.
After investing all of his political capital in talks with Israel, what would President Mahmoud Abbas and his Palestinian Authority (PA) do if he concludes there's no chance for a deal with Israeli Prime Minister Benjamin Netanyahu?
Scenarios range from a new armed uprising against Israel, to a dissolution of the PA, to a renewed drive for a unity government with Hamas – all of which would ratchet up uncertainty in the Middle East and complicate efforts to resume talks.
But the most likely alternative appears to be a diplomatic campaign seeking recognition of a Palestinian state by the United Nations Security Council.
---