Why Israel sees double standard in response to Wikileaks' Iraq files
The Wikileaks files on US actions in Iraq has some Israelis arguing they were unfairly singled out by a UN inquiry over the Gaza war.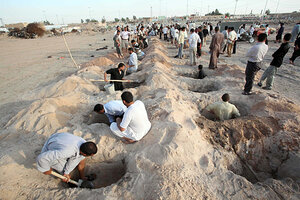 Alaa al-Marjani/AP/File
The Wikileaks release of US military field reports from Iraq that detail tens of thousands of civilian casualties in seven years of fighting is being used by some Israels to argue that their country is a victim of an international double standard on human rights.
With Israeli politicians facing possible arrest in Europe and their government facing allegations of war crimes stemming form the United Nations' Goldstone Report on the 2009 Gaza war, some Israelis are drawing a connection between the conduct of the US military in Iraq and the Israeli Defense Forces (IDF) in Gaza. They say that the world's likely response – or non-response – to the Wikileaks revelations will demonstrate that Israel is held to a higher standard than other nations.
On Monday, Israeli lawmaker Michael Ben Ari said he filed a formal complaint with the UN, calling for war crimes investigations of senior American politicians and "international arrest warrants for US government leaders."
---