How Tariq Aziz's death sentence could drive a wedge into Iraqi politics
Tariq Aziz, Saddam Hussein's right-hand man, has been sentenced to hang in a move some see as politically motivated – and thus one that could further delay a new government.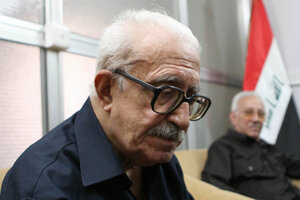 Hadi Mizban/AP Photo
Iraqis thirsting for vengeance as much as justice welcomed the death sentence Tuesday of one of Saddam Hussein's best-known officials, Tariq Aziz.
"The men of the former regime were all criminals – they killed many Iraqis and it is about time to taste what the people were suffering," says Kareem Ahmed Jassim, a retired government employee playing cards at a coffee shop in central Baghdad.
But some politicians condemned the sentencing of the former deputy prime minister as a politically motivated move that could drive even more of a wedge into efforts to form a new government.
The judge who handed down the sentence, Mahmoud Saleh al-Hassan, ran unsuccessfully for parliament as part of the State of Law coalition of Prime Minister Nouri al-Maliki. A major part of the trial was related to main targets of Mr. Hussein's campaign against Islamic parties – including the Shiite Dawa Party of Mr. Maliki.
"We believe that the sentences announced today are intended to serve the interests of nominating al-Maliki for the prime minister's position," says Maysoon al-Damluji from the rival Iraqya bloc, a secular coalition with strong Sunni support. She says the sentence was also aimed at diverting attention from leaked US military documents linking Maliki's office to secret prisons and other abuses.
---