Why Bahrain's Shiite majority is restless despite election gains
Bahrain's Shiite majority now holds 18 of 40 seats in parliament. But Shiites are increasingly upset with the Sunni monarchy, which arrested 23 dissidents in the run-up to this week's election.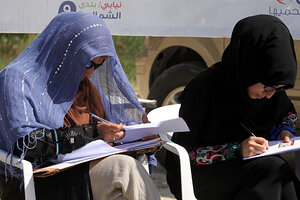 Hasan Jamali/AP
Flanked by anti-regime graffiti and standing next to a dumpster torched during protests last month, Mazen complains that Bahran's king has broken a promise to open up his country's political process.
"We thought we were heading toward reform," says the carpenter, who asked that his full name not be used. "None of that was real. We are worse off now than we were 10 years ago."
That pessimism, shared by many of Mazen's neighbors, is a far cry from the hope that accompanied King Hamad bin Isa al-Khalifa's ascension to the throne in 1999. In 2001, many of Bahrain's Shiites welcomed a limited democratic opening by Hamad, which they anticipated would pave the way for a greater Shiite voice in the government.
For almost 30 years since independence from the UK in 1971, Bahrain had been ruled by a Sunni monarchy led by Hamad's father, Isa, until his death in 1999. So Hamad's promise of political reform two years later was met with enthusiasm by the country's Shiite majority. In 2001 Hamad restored a parliament that had been suspended in 1974, released political prisoners, and invited dissidents home.
And in this past weekend's parliamentary election, the leading Shiite opposition group won another seat in the lower house of parliament, where it now holds 18 of the 40 positions.
Yet in the poor Shiite neighborhood of Sitra where Mazen lives, youths have engaged in sporadic clashes with security forces over the past two months. Why? The government arrested 23 Shiite dissidents. That's part of a broader crackdown that's alienated much of the Shiite majority, which complains democratic reforms have done little to improve their historically second-class status.
Bahraini Shiites
---