Egypt severly curtails press freedom ahead of elections
After giving journalists wide latitude during the last elections in 2005, Egypt is now squelching press freedom and even requiring a permit to send mass text messages.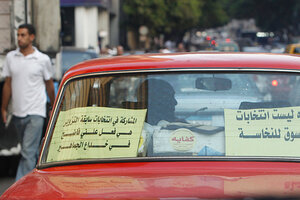 Amr Abdallah Dalsh/Reuters
After a period of relative freedom, journalists in Egypt have become the targets of the harshest government crackdown in years, apparently aimed at silencing critical voices ahead of parliamentary elections next month and a presidential election next year.
The regime of President Hosni Mubarak, a staunch US ally, has shut down a string of television stations and imposed new regulations on newsgathering and telecommunications.
Critics say the attempt to muzzle opposition groups and reformists is intended to protect the 82-year-old Mubarak from public scrutiny of his 29-year grip on the Arab world's most populous nation.
Many observers said Mubarak's government had learned from the last elections, in 2005, when it allowed journalists wide latitude, and media outlets exposed electoral fraud by airing live footage of security forces beating voters and barring them from reaching ballot boxes.
"It is very alarming for us," said Mohamed Abdel Dayem, Middle East and North Africa program coordinator for the Committee to Protect Journalists, a New York-based media watchdog. "Critical voices are being silenced one after the other."
The clampdown also has highlighted the links between Mubarak's regime and powerful businessmen who run media outlets that are nominally independent yet have silenced journalists who criticize the government.
---